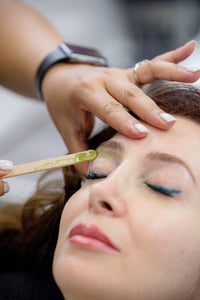 Giovanni & Pileggi Eyebrow Waxing
Are you looking for beautiful, sculpted eyebrows that will have you feeling confident in any situation? Look no further than Giovanni & Pileggi for eyebrow waxing Philadelphia! Our team of experienced professional stylists has mastered the art of eyebrow waxing and is always ready to help craft a look perfect for your face shape and features. Whether you're after naturally feathered brows or something stronger like modern geometric designs, we can deliver stunning results - plus, with our hygienic practices and salon standards, you'll relax knowing your safety is top priority. Discover why Philadelphia trusts Giovanni & Pileggi to provide its residents with the best eyebrow waxing!
What is Eyebrow Waxing?
Eyebrow waxing is a beauty treatment that many women choose to undergo in order to improve the appearance of their eyebrows. At Giovanni & Pileggi, we are proud to offer this service to our clients looking for eyebrow waxing Philadelphia. Our team of experienced professionals will work with you to create the perfect brow shape for your face. Just as our stylists aim to make us the best hair salon in Center City Philadelphia, they do the same with eyebrow waxing. There are many reasons why eyebrow waxing may be a good choice for you. First of all, it can help improve the overall appearance of your eyebrows. Waxing removes unwanted hair from the follicle, so your eyebrows will look neater and more groomed. Additionally, it can help make your eyebrows appear thicker and fuller. Waxing is also a great choice for those who have problem hair growth. Ingrown hairs and irritated skin are common problems associated with tweezing and threading. Waxing is a less aggressive method of hair removal, so it is less likely to cause these types of problems.
Waxing Pricing
Lip Wax
From $10.00
Face Wax
From $20.00
Eyebrow Wax
From $15.00
Ready to book your service online now?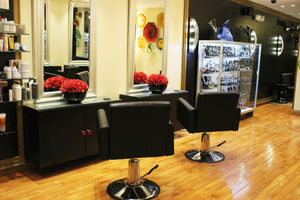 Benefits of Eyebrow Waxing
Eyebrow waxing is a great way to frame the face and give it a more polished appearance. By removing excess hair from the eyebrows, you can really emphasize their features and make them look their best. Additionally, eyebrow waxing can help to keep your brows looking neat and tidy, which can be especially helpful if you have long or unruly hair. Overall, eyebrow waxing is a quick and easy way to improve your appearance, and it's definitely worth considering if you want to look your best.
The Eyebrow Waxing Process
If you are considering eyebrow waxing on your own rather than choosing a professional in Philadelphia like Giovanni & Pileggi, there are a few things you need to keep in mind.
The first is that you should avoid waxing if you have recently had a sunburn or if you are taking acne medication, as both of these can increase your risk of skin irritation.
It's also important to make sure that your eyebrows are clean and free of any makeup or lotion before you start waxing. This will help ensure that the wax sticks to the hair and not to your skin.
Once you're ready to get started, use a pair of tweezers to remove any stray hairs from the area that you plan to wax. Then, using a flat edge like a credit card or spatula, spread a thin layer of wax over the desired area.
Finally, wait for the wax to become firm (usually about 30 seconds) and then remove it quickly in the opposite direction of the hair growth. Be careful not to pull on the skin, as this can cause irritation.
Just like with our nail service, hair service and spray tanning service in Center City, Giovanni & Pileggi stylists are up-to-date in all of the latest techniques and styles to ensure the best end result for your eyebrow waxing as possible.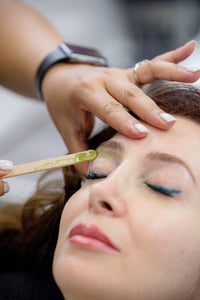 Eyebrow Waxing Aftercare
It is important to properly care for your eyebrows after waxing in order to ensure long-lasting results. Here are a few tips to follow:
1. Make sure to avoid any harsh chemicals or products near your eyebrows for at least 24 hours after waxing. This includes using any type of makeup, sunscreen, or hair products.
2. Avoid rubbing or scratching your eyebrows, as this can cause them to become irritated.
3. Apply a cold compress to the area if it becomes inflamed or irritated.
4. Gently wash your eyebrows with a mild soap and cool water twice a day. Pat them dry with a towel afterwards.
5. Apply a thin layer of petroleum jelly or an aloe vera gel to the eyebrows twice a day to help soothe and protect the skin.
Eyebrow waxing can be a great way to frame your face, emphasize your features, and give yourself a polished look. When choosing a stylist, it's important to find someone you trust and feel comfortable with. Preparing for your appointment by growing out your eyebrows and bringing in pictures of the shape you want can help ensure that you get the results you're looking for. Aftercare is important when it comes to preventing ingrown hairs, redness, and irritation. Choosing a professional for eyebrow waxing Philadelphia like Giovanni & Pileggi can ensure that you look and feel your best. Just as your turn to Giovani & Pileggi as one of the best nail salons in Philadelphia, Trust your eyebrow waxing to the stylists at Giovanni & Pileggi!