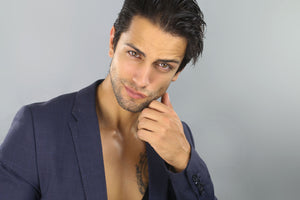 Giovanni & Pileggi Spray Tans
Giovanni & Pileggi is the go-to destination for those seeking the best spray tanning in Philadelphia. Located in the heart of the city, this renowned salon provides a luxurious experience for clients looking to achieve a natural-looking tan without the worry of sun exposure or damage. With over 20 years of experience in the industry, Giovanni & Pileggi's highly trained technicians offer only the best Center City spray tanning services available, from classic spray tans to custom airbrush tanning and more.
When you enter Giovanni & Pileggi, you know you are in for an elite experience. The staff are welcoming and accommodating - they will work with you to determine exactly what kind of spray tan Philadelphia you need and provide you with excellent advice on achieving your desired look. Specializing in both full body and facial tans, clients can choose between classic or custom airbrush techniques; their technicians are experienced in both methods, ensuring that each client receives personalized care tailored to their needs. Our clients have become accustomed to Giovanni & Pileggi offering high end hair and nail salon services, but now can rely on this same high quality of service for spray tans in center city Philadelphia.
The salon offers different shades so customers can achieve a natural color that perfectly suits them. Clients can also customize their tanning experience with add-ons such as bronzing drops and glow enhancers, which allow them to achieve a deeper color if desired. Furthermore, an odorless solution is used during all treatments to ensure that no unpleasant smells linger afterwards.
When it comes to safety, the staff at Giovanni & Pileggi take extra precautions to ensure clients receive top-notch service with minimal risk of irritation or damage caused by UV rays exposure. From start to finish, technicians use gloves and masks while applying sunless tanning solutions; specialized equipment ensures that all contact is done according to strict guidelines set forth by the salon's policies as well as local regulations. This commitment to maintaining high standards helps guarantee that every customer has an enjoyable visit each time they come back for a new spray tan Philadelphia treatment.
The luxurious atmosphere at Giovanni & Pileggi in Center City extends beyond just its services – just step inside and be amazed by modern decor throughout each room alongside upscale furniture pieces made from premium materials and fabrics; this combination helps create an elegant yet relaxing environment where clients can feel truly pampered while getting their spray tans done. Furthermore, you can look to have many beauty and hair services done by the technicians at Giovanni & Pileggi to make looking your best as convenient as possible. As one of the best hair salons in Philadelphia, Giovanni & Pileggi can be relied on as not just your destination for spray tans in center city; but also to keep your hair looking its best as well.
In conclusion, Giovanni & Pileggi stands out amongst Philadelphia's salons when it comes to providing exceptional spray tanning services with excellent results; from luxury amenities and superior quality products used during treatments coupled with attentive customer service from its skilled technicians – everything about this establishment makes it worth visiting for those looking for top-notch service in Philly!