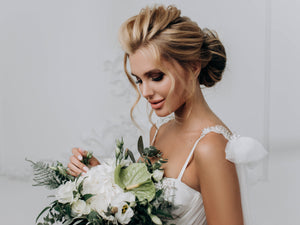 Personalized Wedding Services
Indulge in the Giovanni & Pileggi personalized concierge experience on one of the most important days of your life—your wedding day. Our talented team is proud to offer a variety of luxurious formal services, perfect for every wedding style. Our customizable bridal and formal packages include hair styling, makeup, nails, wedding skincare prep and more. Offering on-location or in-salon services, our top tier professionals are dedicated to achieving the perfect wedding look to compliment your personal style, helping you create stunning memories that will last a lifetime. To book your appointment, call (215) 568-3040 or email Giovanni at gm.1701@gmail.com.
FREQUENTLY ASKED QUESTIONS
Should I wash my hair on my wedding day?
No, we recommend you wash your hair 1-2 days before your special day. Do your best not to use styling products and hot tools, as your hair in its natural form after being blown dry is the state we'd prefer.

Do I need to provide my own makeup?
You do not. Our makeup professionals have a variety of colors and shades to help you achieve your dream look. However, if there is a specific color you would like to be used, be sure to inform us ahead of time.

Any recommendations on what to wear during my bridal hair/makeup appointment?
We recommend wearing a button down or zip-up shirt. This will ensure that your hair and makeup will not be alter once it's time to change.

Do you recommend a bridal trial?
Absolutely! One to two trial appointments provide your stylist with ample time to truly understand and help you achieve your desired look.
Please be sure to confirm all appointment dates and times are correct once you have decided to allow us to be a part of your special day. Feel free to call (215) 568-3040 or email Giovanni at gm.1701@gmail.com if you have any questions.